Pump Filters, Housings, Cartridges & Bags
Bag Filters • Cartridge Filters • Duplex Filters • Standard & Custom Design • Polypro • Kynar • CPVC • FRP Multi-bag
JH Process has a wide supply of industrial chemical filters including: bag filters, cartridge filters, duplex filters, and nylon 66 charged filters. We can explain why a bag may work better than a pleated filter in some industrial filter applications or why its better to use a depth filter for those really viscous liquids. Determining optimal filtration involves many factors such as particle size distribution, shape, viscosity and percentage of solids.If your looking for replacement filter cartridges, bags or any size and shape element we can meet your needs.
here to view all pumps available at JH Process!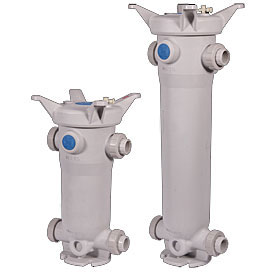 Bag & Cartridge filter housings can be constructed to handle any fluid from caustics, acids, bleaches, solvents, oils and saltwater. We have single cartridge housings to take one 10″ filter on up to two hundred 40″ filters. Stainless steel and polypropylene housings are normally in stock. Housings can also be constructed of any alloy or fluoroplastic such as Teflon, Kynar and Tefzel.

Bag filters come in many diameters and lengths. Common industrial sizes are 4″ and 7″ diameter with lengths up to 32″.Constructed of Polyester, Polypropylene, Nylon, Nomex and Teflon bags are available from 1 to 1500 micron. Multilayer, high efficiency, oil absorbing and high temperature designs make this filtration media very adaptable. Bags are easy to change out and inexpensive.
We offer many different cartridges depending on the application. Pleated filters offer a large surface area to reduce pressure drop and maximize filter life. Wound and Melt Blown cartridges offer a very economical depth type cartridge. For higher viscosity resin bonded filters will handle higher differential pressures. Filters have micron ratings from 0.1 to 400 micron. Filter media can be polypropylene, polysulfone, Teflon, Nylon 6,6, Plus+ Nylon 6,6 in membrane absolute rated and nominal rated. We can also offer stainless steel wire mesh cleanable cartridges.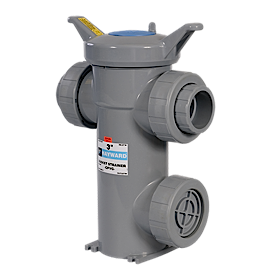 The most common strainers are either a "Y" type or "T" type. Simplex, duplex and multiple configurations are available. The type of location and user preference usually determines which one is used. We can offer virtually any material for the strainer housing but the most common are stainless and carbon steel, polypropylene, PVC, CPVC and Fiberglass. Corrosion resistant Teflon, ETFE (Tefzel) and PVDF (Kynar) can be fabricated by rotomolding or spray lining. Baskets can also be offered in most materials in any perforation and mesh lining. If you are applying a strainer to the suction of a pump make sure that you oversize it and put some controls in to monitor differential pressure or motor load.